What is Instagram Comment Picker?
Instagram Comment Picker is a free tool to pick a random winner for an Instagram giveaway, contest, sweepstake or promotion. The giveaway winner picker retrieves all comments from the selected Instagram posts or videos, filter comments based on your selected giveaway settings and pick a winner at random.
This tool can only be used if you have connected your Instagram business or creator account to a Facebook business page and can't be used for personal Instagram accounts. Learn how to convert your personal Instagram account to a business account.
Save results of Instagram Winner Picker
After a draw, it's possible to store the results of your Instagram raffle. If you click the copy unique link button or one of the social share buttons, we will automatically save the results and create a unique URL for you. This unique URL can be used to share the winner on social media to your followers to prove it's done in a fair way.
Which information do we store in the unique URL?
Winner of the Instagram giveaway.
Link to the Instagram profile of the winner.
Comment of the winner.
Date of the raffle.
Number of comments.
Example of the results of your Instagram giveaway if you create a unique link: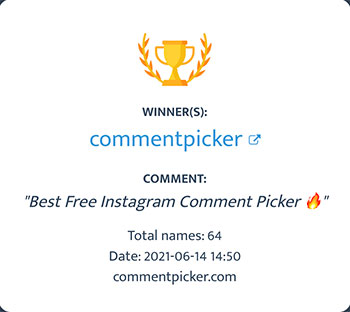 Best free tool to select winner Instagram giveaway
We believe that our Instagram Giveaway tool is the best way to pick a winner for any Instagram contest. Why is our tool better than others?
100% free to use.
No maximum limit in number of comments.
No sign-up or registration required.
Support to select multiple Instagram posts.
Possibility to filter comments on number of mentions, tags or duplicate users.
Possibility to add extra entries or block users.
Great support via Facebook and Instagram.
Create a unique URL with the results of your Instagram contest.
Do you think we can make it even better? We are always open for suggestions to improve our giveaway tool.
Create Instagram giveaway
If you want to create and run your own Instagram giveaway, you need to think of some requirements and rules for people to join the contest. E.g. You could think of leaving a comment with minimal 2 friends mentioned.
Our tool supports different settings to filter comments and users, to add extra entries or to block people. The settings are explained below.
Minimum amount of @mentions in 1 comment
If you select this option a single comment of a user should have a minimum number of friends mentioned before it's included in the raffle. You can choose up to 10 friends mentioned. By default, it's not required to have a friend mentioned.
Filter comments with the same mentions
This filter will be visible after you select a minimum of 1 or more mentions in one comment. If you enable it, we will filter the comments which are using the same mentions. The comments with the same mentions will not be counted as entries, only the first appearance is counted.
Include comment replies
If you enable this option, comment replies are included in the comments. By default, comment replies are excluded from the contest.
Filter duplicate users
If you enable this filter, we filter multiple comments made by one user. Only one comment per user is counted as entry. A user is defined by a unique user ID. This option gives each user the same chance to win.
Filter comments based on a specific text
If you enable this filter an extra text field will appear where you can enter a specific text, hashtag or answer. A comment should have this text included before it's included in the contest.
Extra entries
You can add extra entries by selecting the option "Add extra entries". You will see a textarea where you can add names of the extra entries. The extra entries are not connected to the comments and will be added to the total amount of comments. You can add each entry by a newline or separated by comma.
Exclude or block users
You can exclude user by selecting the option "Exclude / block users". You will see a textarea where you can add usernames of the users you want to exclude from the contest. You can add each Instagram username by a newline or separated by comma with or without @.
This option can also be useful if you want to exclude previous winners from winning again. You should enter the username and not the name of the person, e.g. @commentpicker instead of Comment Picker.
Remove winner from list after it is chosen
If you want to pick multiple winners without choosing the same winner twice, you should enable this filter. If this option is enabled, we will immediately remove the winner from the list of possible winners after the raffle.