About Facebook & Instagram Giveaway Picker
Facebook & Instagram Giveaway Picker is a free tool that allows you to randomly select a winner for your simultaneous giveaway or contest on both platforms Facebook and Instagram.
Connect your Facebook business page & professional Instagram account, select giveaway posts and get comments. The tool retrieves all comments from the selected Facebook and Instagram post, and chooses a winner based on your chosen giveaway filter and settings.
Save & share the giveaway results
Once the winner has been selected, you can save the results and create a unique page to share with your followers. Simply click on one of the share buttons below the giveaway details to generate a unique link that includes the following information:
Winner's username & profile picture.
Winning comment and link to the comment.
Draw date.
Giveaway posts.
Giveaway accounts.
Example of a certificate with the result of an Instagram & Facebook giveaway: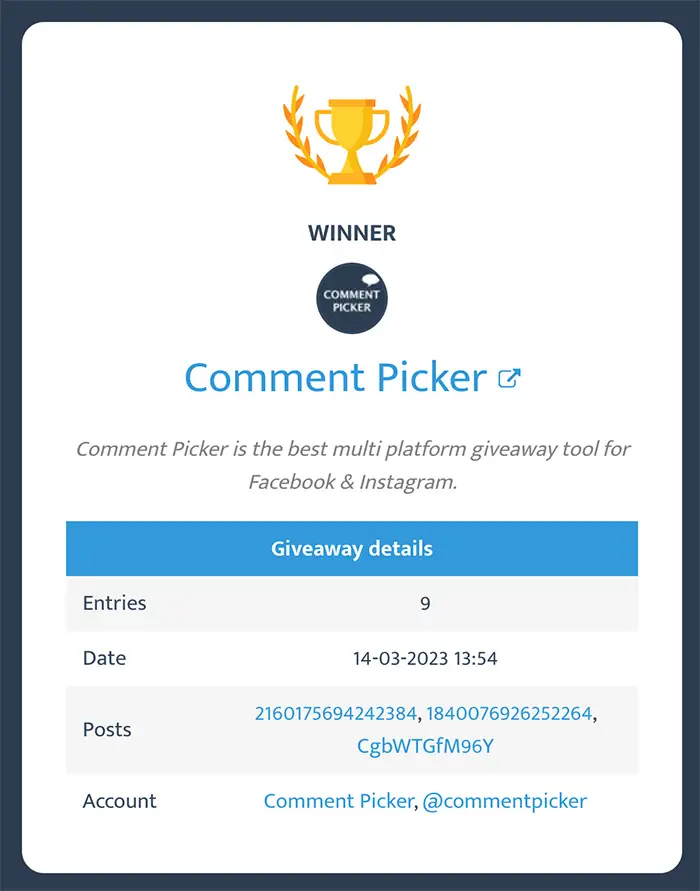 Giveaway results will be stored for at least 3 months.
Instagram & Facebook giveaway settings & filters
Once you have selected your Instagram and Facebook giveaway post, you can customize your contest by choosing from a variety of options and filters. More information about these options is provided below.
Minimum amount of @mentions:
If you select the "Minimum amount of @mentions" option, a single comment must have a minimum number of friends mentioned / tagged in order to be included as entry in the raffle. You can choose to require up to 10 friends tagged. By default, there is no requirement for mentions in a comment.
Include replies on comments
If you enable this option, comment replies will be included in the contest. By default, comment replies are excluded from the contest. Note that the total comment count on Instagram is showing with number of comments with replies.
Filter duplicate users
If this option is enabled, the tool will remove multiple comments submitted by the same user. A user is identified by a unique user ID. However, it's not possible to filter out users who comment on both Instagram and Facebook, as they have different IDs on each platform.
Filter comments based on a specific text
If you enable this option, an additional text field will appear where you can enter a specific text, hashtag, or answer. A comment must include this text to be included in the contest.
Add extra entries
If you enable the "Add extra entries" option, you will see a text area where you can add additional entries to your giveaway or contest. In this field, you can enter the names of the extra entries.
The extra entries will always be included, even if the duplicate filter option is turned on. Extra entries can be helpful if you want to add extra changes for people who liked or shared your post, for example.
Exclude users
You can use the "Exclude users" option to exclude users from the winner selection process. Simply enter the names of the users you want to exclude from the contest in the provided text area.
This option can be helpful if you want to prevent previous winners from winning again. To filter an Instagram user, enter their username with or without the "@" symbol, and to filter a Facebook user, enter the name displayed on their Facebook profile.