What is a YouTube Tag Extractor?
YouTube Tag Extractor or YouTube Tag Finder is a tool that helps you to get YouTube video tags from a YouTube video or YouTube Shorts by entering a YouTube video link in the tool. The video tags are extracted by using the YouTube Data API v3.
An example of YouTube video tags that are extracted with the Tag Extractor: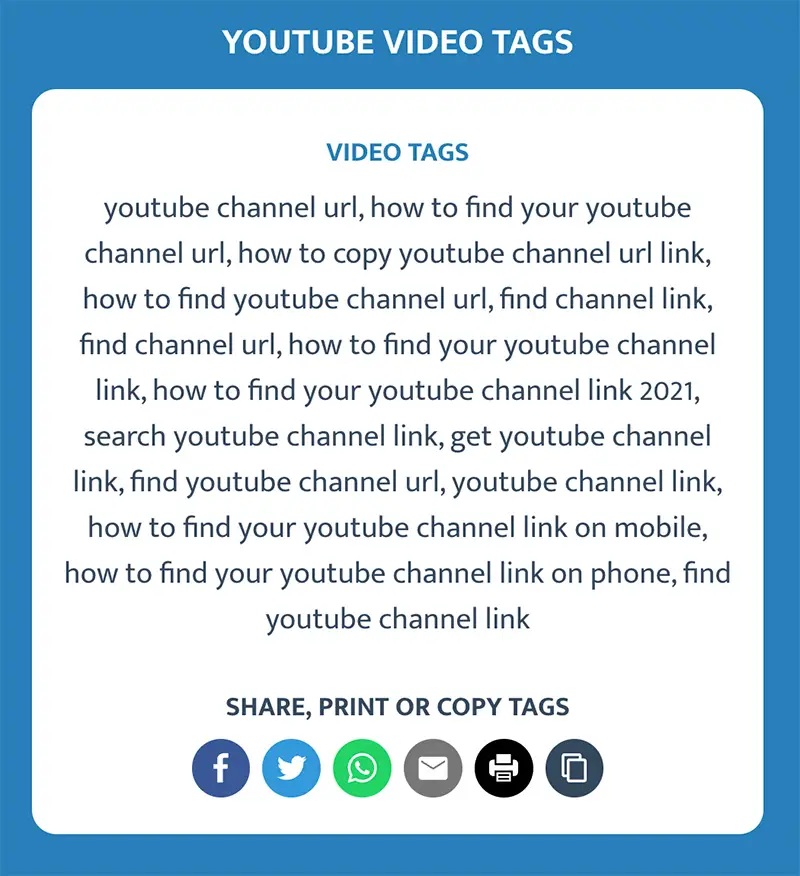 You can share the YouTube video tags on social media, export tags to Excel or copy them to your clipboard.
When using this tool you are agreeing to be bound by the YouTube Terms of Service.
What are YouTube video tags?
YouTube video tags or YouTube hidden tags are keywords which are attached to a YouTube video. They are used by the YouTube engine to search and categorise videos and provide the user the best matching video based on other YouTube ranking factors.
Why should I use a YouTube Video Tag Extractor?
A YouTube Tag Extractor can be really useful to grow your YouTube videos. You can use the Tag Extractor to find tags of other related high ranking videos and copy them to your video. This way you can improve the performance, views and SEO of your video, by making it easier findable for users.
How many tags can you use on YouTube?
YouTube tags are not restricted by the number of tags, but by the number of characters of the total of all tags. YouTube video tags have a limit of 500 characters.
How many tags should I use on YouTube?
Most videos have 5-8 video tags attached to the YouTube video. We advise to always use the maximum number of video tags to your video to make it easy for your audience to find your video.
Make sure your tags are related to the content of your video and people are searching for those keywords. You can use the autocomplete of YouTube search to see which keywords people are searching for.
How to find your YouTube video link?
To find the YouTube video link, follow these steps depending on the platform you are using.
Find YouTube video link on mobile
Launch YouTube app.
Navigate to YouTube video.
Tap Share below video.
Tap Copy Link in dialog.
Find YouTube video link on desktop
Open YouTube in browser.
Navigate to your YouTube video.
Press Share below video.
Press Copy in dialog.
You just successfully copied the YouTube video URL to your clipboard which you can paste in our tool to get the YouTube video tags. Please let us know if you have any issues with getting the YouTube video URL or tags by sending us a message via Facebook or Instagram.