Random Name Picker Wheel
Name Picker Wheel is a free online tool to create and spin a wheel of names and select a name at random. Add or upload your list of names, customize wheel settings and spin the wheel to pick a winner.
You can spin the wheel of names multiple times to choose multiple winners, and you are able to see previous winners. You can remove the winning name from the wheel to prevent drawing the same name twice.
Spin Wheel of Names
Tap the Name Picker Wheel to start spinning and to select a random name.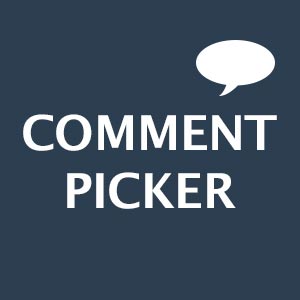 Draw details
Number of names
Draw date
By commentpicker.com
How to use the Wheel of Names?
Learn how to select a random name using the Wheel of Names in the following simple steps.
Add names to the Wheel of Names.
Customize the Name Picker Wheel.
Press the wheel to spin and select a random name.
Save and share the results.
What is Wheel of Names?
Wheel of Names is a free online tool that helps you randomly select a name by simply spinning a wheel. Add any number of names to the wheel, personalize it with custom colors, fonts, and logos, and create a unique page with the results.
You can also spin the wheel multiple times, select multiple winners, and view previous winners. Have feedback? Let us know on Facebook or Instagram.
Why use a Name Picker Wheel?
A Wheel of Names can be used for a variety of purposes, such as:
Raffles: It is a fun way to select a random name for a prize or reward.
Classroom activities: The wheel can be used to randomly select a student's name for activities such as presentations or group work.
Online contests: It can be used to select a winner for giveaways or contests.
Decision-making: The wheel can help select a random starting player, game to play, or task to do.
Random Name Picker Wheels
Check out our various examples of Name Picker Wheels featuring unique color palettes, fonts, line colors, and pin colors. With our customizable wheel settings, you can easily create and personalize your own wheel.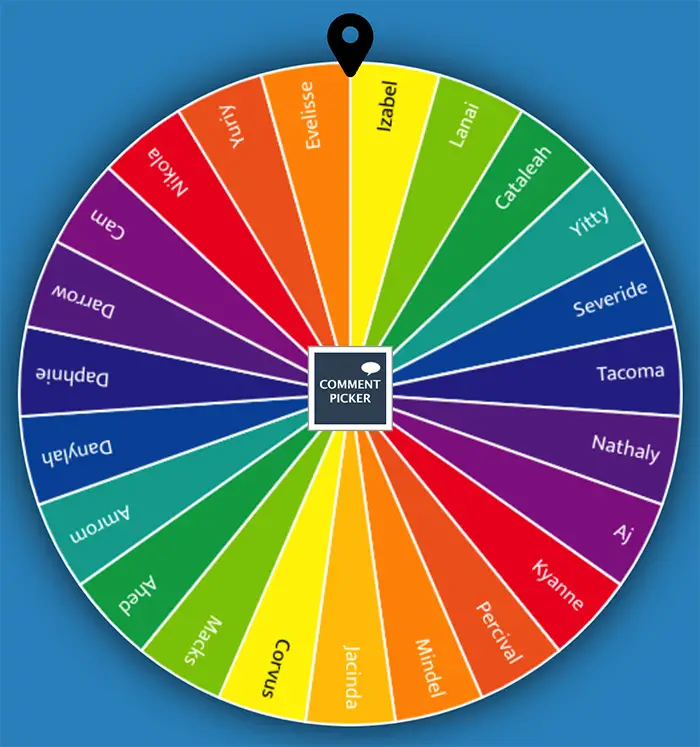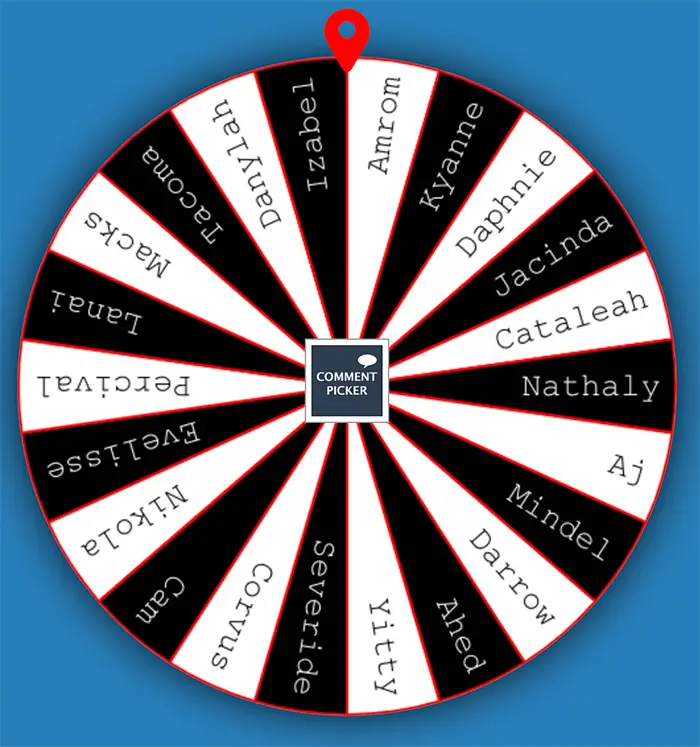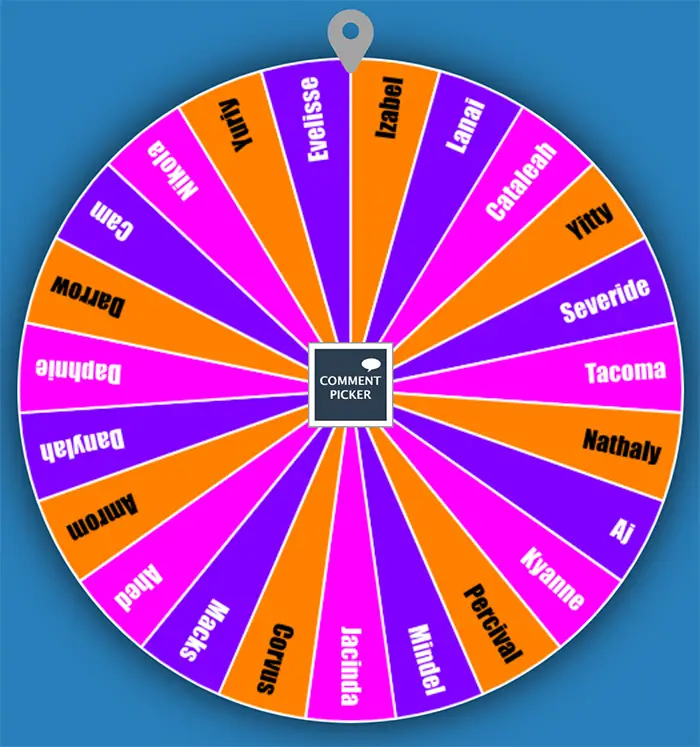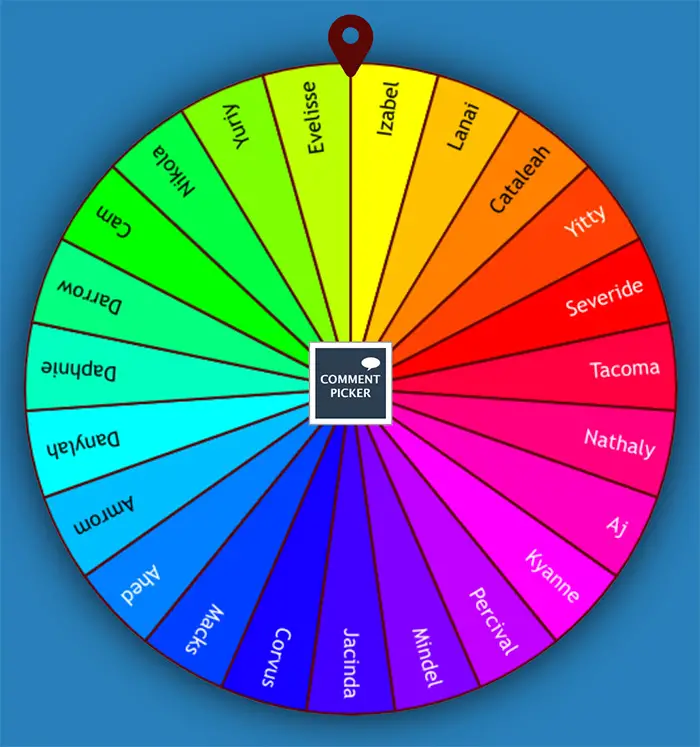 Save & share Picker Wheel results
If you want to save and share the results of the wheel spin, you are able to create a unique results page. You can create the page by using one of the share buttons, which are displayed below draw details after a wheel spin. We will store the following information:
Name of winner.
Number of names.
Draw date.
Example of certificate with Wheel of Names results: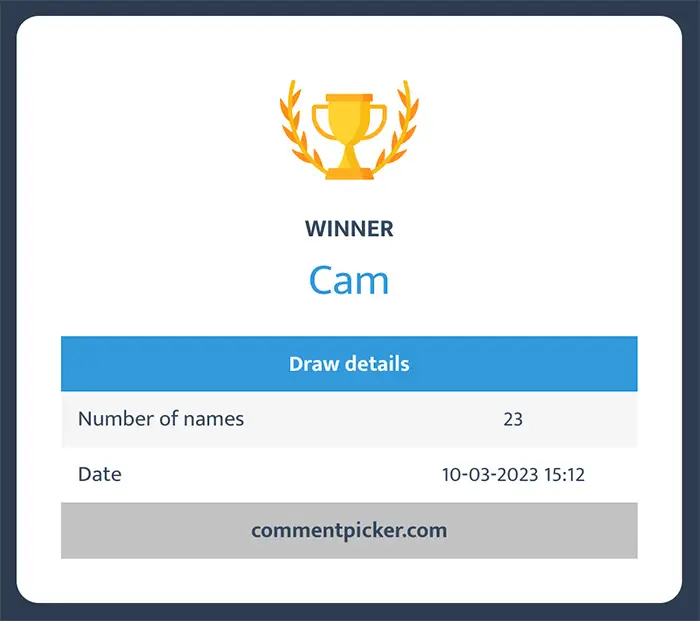 Wheel spin results are stored for at least 3 months.
Video: Wheel of Names
Learn how to use our Wheel of Names app by watching our how-to video.
Frequently Asked Questions
You can find answers of frequently asked questions about our tool in the list below. Is your specific question not in the list? Please send us a message via Facebook or Instagram.
The Wheel of Names is 100% fair to use and can't be manipulated. The tool is using a pseudorandom number generator (PRNG) to ensure complete randomness when selecting a name. Simply add your list of names to the wheel and give it a spin.
The Wheel of Names is completely free to use without any limits. You can use it as many times, add as many names as you like and customize the wheel to fit your needs.
The Name Picker Wheel can handle an unlimited amount of names. If you add more than 100 names to the wheel, it may become difficult to read all the names on the wheel. Nonetheless, the wheel will still be able to select a random winner and display the chosen name.
The Wheel of Names allows you to spin the wheel multiple times to select as many winners as you like. You can even view previous winners.
The Name Picker Wheel offers a range of customization options to make it uniquely yours. You can choose from a selection of pre-defined color palettes, and also adjust the font, text size, and color of the lines, text, and pins on the wheel.
Yes, they can! Once you've spun the wheel and selected your winner(s), you can create a unique page with the results and share it with others. It's a great way to announce a winner.