What is Instagram Comment Picker?
Instagram Comment Picker is a free tool to pick a random winner for an Instagram giveaway, contest, sweepstake or promotion. The giveaway winner picker will get all comments from the selected Instagram photo or video, filter the comments based on the giveaway settings and select a random winner.
This tool can only be used if you connect your Instagram business or creator account to a Facebook business page and can't be used for personal Instagram accounts. Learn how to convert your personal Instagram account to a business account.
Save results of Instagram Winner Picker
After a draw, it's possible to store the results of your Instagram raffle. If you click the copy unique link button or one of the social share buttons, we will automatically save the results and create a unique URL for you. This unique URL can be used to share the winner on social media to your followers to prove it's done in a fair way.
Which information do we store in the unique URL?
Winner of the Instagram giveaway.
Link to the Instagram profile of the winner.
Comment of the winner.
Date of the raffle.
Number of comments.
Example of the results of your Instagram giveaway if you create a unique link: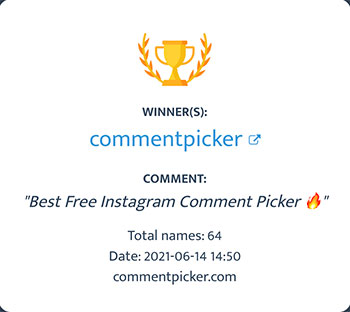 Best free tool to select winner Instagram giveaway
We think our free Instagram Giveaway tool is the best way to pick a winner on Instagram. Why is our tool better than others?
100% free without limits.
No signup or registration required.
Multiple settings to include replies, minimum amount of mentions in comments, filter on text or hashtag.
You can add extra entries or blacklist users.
Select a winner from multiple Instagram giveaway posts.
Great support via Facebook and Instagram.
Create a unique URL with the results of your Instagram contest.
Do you think we can make it even better? We are always open for suggestions to improve our giveaway tool.
Instagram Contest Rules
What are the Instagram Contest Rules for running a giveaway or promotion on Instagram? Which Instagram giveaway rules are (not) allowed and which are required?
Read all Instagram promotion guidelines in our blog about the Instagram Contest Rules.