What is Random Name Picker?
Random Name Picker is a free tool to quickly draw a random name or to pick multiple random winners by submitting a list of names. This tool can be used in classroom by teachers to select a random student or for lotteries to draw a random winner. Drawing a random name is never been so easy.
You can use random name selector for any contest, giveaway, raffle, drawing, promotion or competitions. The tool is also used for families to decide who has to do the dishes or by teachers to select random students for activities or assignments in school classes.
Name Picker is the easiest way to draw names from a hat (a virtual hat in this case). Any suggestions or feedback to make the Name Picker app even better? Please let us know via Facebook or Instagram.
How to save and share results of the Name Picker?
We have a featured to save the results of your raffle and create a small certificate. You can create one by using one of the social share buttons or the copy link button after the draw is finished. We will create a unique URL with the results of your raffle.
You can share this link on social media and we show the winner, total names and the date of the raffle if anyone visits the page. Results of the giveaway picker for a limited amount of time.
Example of a unique link with results of a drawing: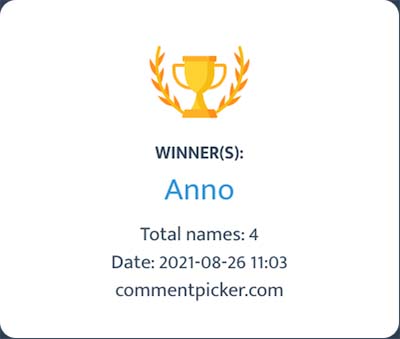 Randomly Pick Contest Winners
This tool can be very useful to choose random winners for your online contest. Get all the names of the participants that entered the contest and which comply with the rules of your contest or giveaway. Enter the names in the Name Picker tool, select raffle options and start the draw to pick a random winner for your contest and contact the winner of your raffle and share the results via social media.
You can also use one of our Comment Picker tools to get all names and entries automatic for Facebook, Instagram, Twitter or YouTube.
For what kind of contests or giveaways do you choose a winner with our Name Picker tool?
Random Drawing Generator
Random Drawing Generator could be 2 different tools with different purposes, because the word drawing has two different meanings.
Drawing can mean: "the selection of a winner or winners in a lottery or raffle".
Drawing can also mean: "a picture or diagram made with a pencil, pen, or crayon rather than paint, especially one drawn in monochrome".
Our Random Drawing Generator is used to select random winners in a drawing of a raffle. We might release a Random Drawing (Idea) Generator as well.