What is YouTube Random Comment Picker?
YouTube Random Comment Picker is a simple and free online tool to pick a winner for YouTube giveaways, sweepstakes, promotions, contests or lotteries based on comments.
Start by entering a YouTube video URL in the tool and press get comments. We will retrieve all comments from the official YouTube API. We add comment replies, extra entries, block users and filter duplicate names from comments, based on your selected settings. After retrieving all the comments you can start the winner generator and pick a random winner from all the comments by pressing the Start button.
When using this tool you are agreeing to be bound by the YouTube Terms of Service.
Save results giveaway and share
After a YouTube draw with our giveaway tool it's possible to save the results. You can do this by using one of the share buttons or copy button. This will create a unique link for your giveaway where you can find the winner, comment of the winner, date of the raffle and total amount of entries. You can share this URL with all your followers. They can see the result of the contest on this page. This unique URL will be stored for at least one month and does not contain any of your private information.
Example of results in a unique giveaway link: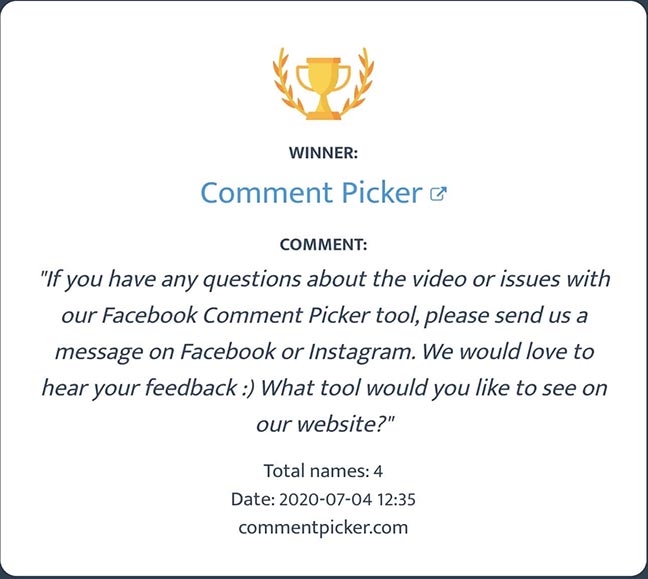 YouTube Comment Picker options
We have some options for the YouTube Giveaway tool to filter comments from the raffle. This options can be used to include or exclude entries for the contest.
Filter duplicate users
If the option "Filter duplicate users" is enabled, it means that if a user adds 2 comments on your giveaway video, it's only counted as one entry. This way you can make sure that people will not spam your contest with comments to give themselves extra changes. We filter users by a unique user ID that belongs to a YouTube user.
Include replies to comments
Replies are comments which are replied on top level comments. Those comments are done via the Reply button in YouTube. Enabling this option will include those comments as well, by default those comments would not be included.
Filter comments based on a specific text
Let's say you start a raffle where you want people to give the correct answer on a question, or guess the number. This option make sure that only users with a specific text/answer are included in the entries. Could be useful for a YouTube guess & win contest.
Add extra entries
By default only comments are counted as entries for the contest or promotion. We can't get subscribers or people that liked your video with our tool. If you want to give people an extra change if they subscribe or like, you can use the extra entries option to add their names. Those names are not connected to a user from the comments and will not be filtered.
Exclude or block users
You can exclude user by selecting the option "Exclude / block users". You will see a textarea where you can add names of the users you want to exclude from the contest. You can add each name by a newline or separated by comma. This option can also be useful if you want to exclude previous winners from winning again. You should enter the name of the person that is displayed on their YouTube channel or in the YouTube comment, e.g. Comment Picker.
Remove winner from list after draw
You can enable this filter if you want to exclude the previous winner from winning multiple times. If this option is enabled, we will immediately remove the winner from the list of possible winners after a draw.
Youtube Contest Rules
Want to know more about the rules of what is and what is not allowed in a YouTube contest? Or do you want to learn more about how to create successful giveaway to increase subscribers and views?
You can read it in our blog about How to Run a Giveaway On YouTube?